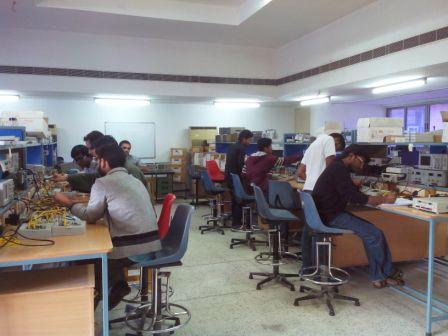 High Frequency Laboratory at EEE, IIT Guwahati is research cum teaching laboratory.Research works are carried out in the area of antennas, computational electromagnetics and microwave engineering.Lab courses like Microwave Engineering Lab, Communication Lab, Design Lab, etc. are held in HF Lab.
Sponsored Projects:
Project Title: Mission Project on Virtual Lab-System, Communication and Control Laboratory
Funding Agency: MHRD.
PI: Prof. R. Bhattacharjee.

HFSS 14.0
IE3D
Elanix SystemView
Agilent VEE Pro
Tektronix's Wavstar
Cadstar 6.0 PCB Design
Arbitrary waveform generator
Automated antenna radiation pattern plotter
PCB Prototyping machine
Microwave sources and test benches
RF power meter
Synthesized RF signal generator
6GHz Spectrum analyzer