Library / Reading Room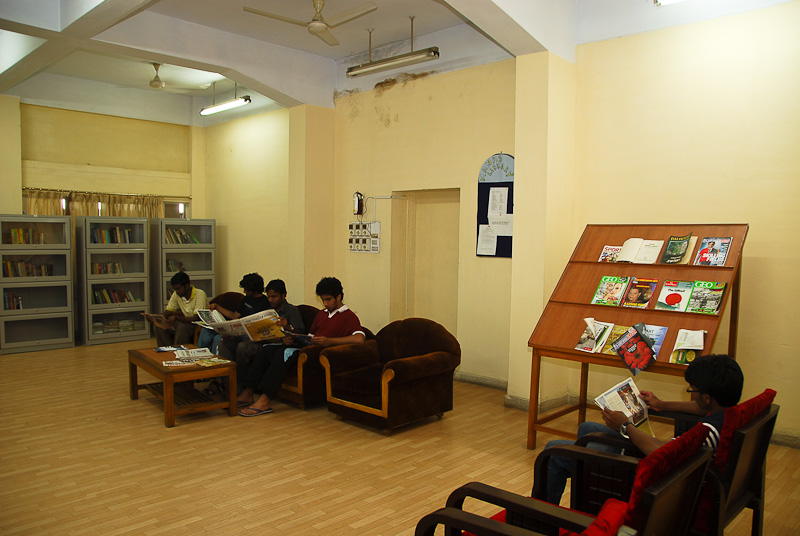 Each hostel has a reading room wherein you can find a variety of books ranging from fiction to academic stuffs. You can even find the magazines and newspapers in different languages to be updated with the happenings outside IIT. You can even sit and have GDs in the reading rooms.
TV Room
TV Room has a TV with all the channels subscribed and the modifications are flexible on discussion with the General Secretary of your hostel. But watching TV alone is not fun, isn't it?
With students from diverse background and different fan-following, you see the TV room full with the students even if it is Madrid taking on Barcelona at 1 in the night or India taking on Australia in a cricket match starting at 4 in the morning. India-Pakistan cricket match is definitely not worth a miss at IIT.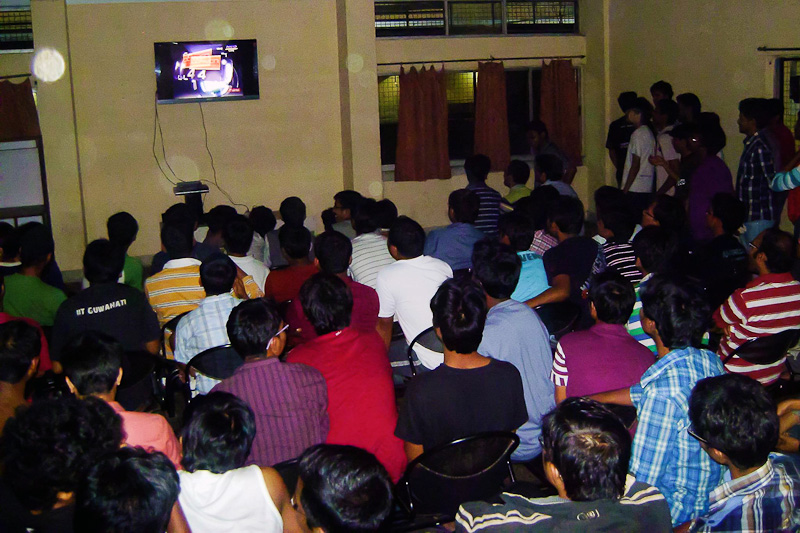 Mess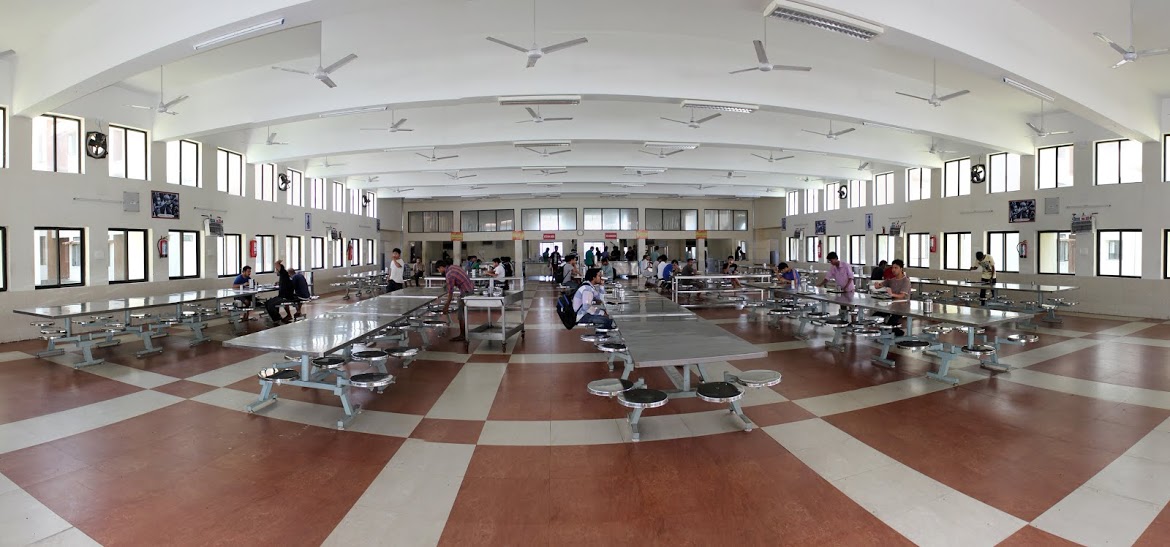 This is the place where you will be provided with Breakfast, Lunch and Dinner. Hostel Mess provide healthy and quite decent quality of food and is being prepared in a hygienic kitchen. Dining Mess tries to provide different variety of food, so that student from different parts of the country can have a familiar meal, once in awhile. Mess timings at IIT Guwahati are quite comfortable and have been adjusted according to the routine of students.
Canteen
If you are a foodie, you need not worry. Each hostel has a canteen which will be catering to needs of your taste buds and hungry stomach right from 8 in the morning to 3 in the night. It is a hangout place for the boarders after they return to the hostels from their departments. Canteen will be serving you everything starting from tea, biscuits, readymade packets to Dosas, Bhel and Fried Rice.
Juice Center
Don't feel like eating anything? Juice center in your hostel awaits you to enjoy the chilled juices and milk shakes which will definitely help relish your mood. Well, it is not just a juice center, you also have variety of fruits available round the year to provide you a healthy and yummy 'Fruit Chaat'. You also have the soft drinks available at the juice center. Juice center opens from 9 in the morning to 2 in the night.
Pantry
To escape mess food once in awhile or if you are a cooking enthusiastic, hostels have their own pantry. Students can go and cook anything, anytime. It houses all the high end kitchen appliances, oven, refrigerator, toaster, mixer-grinder, gas stove etc. Just get the ingredients from faculty gate, mess, canteen and prepare meal for you and your friends and have 'ghar ka khana' at hostel.
Music Room
Apart from the professional music room at the New Students' Activity Center(New SAC), each hostel has a music room. Each hostel has a band where they keep jamming on a regular basis and the bands from each hostel compete against each other during Manthan. Manthan is an inter-hostel cultural competition where you can see the hostel spirit and boarders come together to make the atmosphere lively and build bonds with each other.
Sports Facilties
The students at IIT don't just keep sitting in the labs or studying at the room. Sports facilities at hostels are a quite good relaxation to the boarders. With each hostel having a sports room with indoor sports like Table Tennis, Carom and basic gymnasium equipment; a volleyball/badminton court, and an open field where you can play football, cricket, the life in the hostels is active. You need not carry the equipment for these sports as all these are provided by the HMCs in each hostel.
Gymnasium
Keeping in mind, the fitness needs of students, Every hostel has a gymnasium of their own. Even though campus has a state-of-art gym, hostel gyms makes sure that, students can do their work-out without stepping out of the hostel. Gyms are equipped with modern equipments, and are installed according to hostel residence requirement.
Stationery Shop
Well, it is more of a general store than just a stationery shop. You will get things of your daily needs like shampoos, toothpastes, soaps, decent quality spikes, notebooks and other stationery products in different ranges. Photocopies and print-outs are also done at the stationery shops. If you are the one who needs to be connected with people over the phone, stationery shop will provide you with the recharge facility. You also have SIM for all networks available here. Stationery will be open from 10 in the morning to 11 in the night.