IIT Guwahati is pleased to announce its awardees for Alumni Award 2020 IITGuwahati for very first time
Posted: May 25, 2021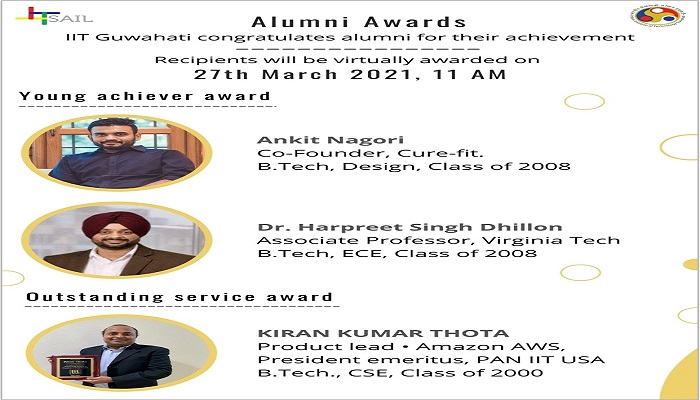 IIT Guwahati is pleased to announce its awardees for Alumni Award 2020 #IITGuwahati for very first time takes this opportunity to recognize the professional achievements and contributions made by our alumni community in different spheres of their professional and social engagements.

YOUNG ALUMNI ACHIEVER AWARD :
1. Dr. Harpreet S. Dhillon, Associate Professor, Department of ECE, Virginia Tech, Blacksburg
2. Mr. Ankit Nagori, Co-Founder CUREFIT, Bangalore
OUTSTANDING SERVICE AWARD :
Mr. Kiran Kumar Thota, Product Lead, Amazon AWS, President, PAN IIT USA
Awards will be presented virtually on March 27, 2021 from 11 am (IST) onwards.